Project At


46, Airport Road, Ujalaiwadi, Kolhapur.
Property
Total
Available
Area
Price
1 BHK Flats
28 Units
2 Units
578 Sq.Ft to 578 Sq.Ft
19 Lakhs - 19 Lakhs *
* Price Excluding Other Charges
10% Down Payment & 90% Loan Available

The project has been registered via MahaRERA Registration Number: P53000000346 and is available on the website https://maharera.mahaonline.gov.in under registered projects.
Compound Wall Around Project

Attractive Elevation

30 ft. wide road

Internal Road

Street Light in Premises

Security

Watchman Room / Servant toilets

CCTV Security System

Landscaped Garden in Open Spaces

Rain Water Harvesting

2 Wheeler Parking

4 Wheeler Parking

Ample Parking Space

Intercom Facility

Lift with Battery Backup

24 Hrs battery backup

Inverter Wiring Provision

Society office

24 Hours Water Supply

Fire Fighting System

Overhead Water Storage Tanks
Location Advantages
Airport : 1 KM
Kole Hospital : 0.5 KM
NH 4 : 0.4 KM
Cancer Hospital : 1.5 KM
Shantiniketan School : 3 KM
Shivaji University : 3 KM
Kolhapur Public School : 5 KM
CBS & Railway Station : 6.5 KM
Star Bazaar : 5 KM
Gokul Shirgaon MIDC : 4 KM
Fill up following form & Get Varun Flora - Rose Details On Email & SMS Free, with Project status, specification, amenities, builders Contact No. etc....No Brokerage from us.
Varun Flora Available (Total) Flats : 1BHK - 69 (84) , 2BHK - 86 (108) , 3BHK - 22 (24) Residential Area : 578 to 1168 Sq. Feet Price : 16.50 to 33.34 Lakhs *Excluding other charges. Loan Approved By : HDFC, Axis Bank Site Address 46, Airport Road, Ujalaiwadi, Kolhapur. E-brochure Specifications Attractive Entrance Gate Internal Roads & SEcure Compound Wall around project Internal Gas pipe line Childrens play area & garden Lift & common area lights with generator backups Jogging Track & walking track Attractive society office Gym, Yoga Hall & Fitness Area Spacious Parking CCTV with 24 hrs. security Rain water harvesting system Driver room - with toilet & living room Project near Ujalaidevi Waterfall area with natural environment Tulasi Vrundavan, Temple, amusement center for Senior citizens. Pollution free clean air around. Nearest Places From Project Airport - 1 Km Kole Hospital - 0.5 Km NH 4 - 0.4 Km Cancer Hospital - 1.5 Km Shantiniketan School - 3 Km Kolhapur Public School - 5 Km Shivaji University - 3 Km CBS & Railway Station - 6.5 Km Star Bazaar - 5 Km D Mart - 7 Km KIT - 2 Km Bharati School & College - 4 Km CSIBER / Rajarampuri - 5 Km Shiroli MIDC - 6 Km Gokul Shirgaon MIDC - 4 Km Kagal 5 Star MIDC - 6 Km VIBGYOR International School - 5 Km
The Firm
Vertex Developers is a partnership firm since 2009. The partners of this group are proud founder members of CREDAI Kolhapur as well as CREDAI Maharashtra with a visionary approach. Our team has maintained a steady growth which has culminated in excellence and recognition throughout the years. Our team at Vertex Developers includes the staff that are technically qualified, well trained, experienced, ethical & professional who continuously to provide top quality service for individual clients and customers.
We believe in adapting to ever changing modern technology while practicing good ethics and ideologies to create quality product. We do our best to frequently improve our skills and technology. "Hard work has no alternatives" is our credence. Knowing the needs of the clients, expanding our services accordingly & always exceeding expectations of our customers, we place ourselves among one of the pioneers in real estate development of the city.
Our Values
We believe in providing sustainable and affordable lifestyle along with following values:
Planned development
Quality construction
Transparency in business
Creating value assets
Extra focus on after sale services
To become a trustworthy name in our spheres of business
Our Focus
Considering housing needs of a common man with skyrocketing real estate prices, we help them to bridge the gap between their dream and realty of buying a "home". We believe to make difference in the lives of our customers by offering them affordable housing with following aspects:
Small and mid-sized units
Optimum utilization of space
Utility based amenities
Sustainable housing solutions to minimize maintenance
Ideal locations with tremendous growth potential
Our Commitment
Striving to deliver quality projects on time along with safety of our workers and customer care with thorough professionalism has paid off in a big way. We intend to uphold our policy of maintaining the fulfillment our client's dream as our priority no. 1 without compromising in quality of work. Our objective is to aim for compact but quality housing at economical rates.
Our Team:
Our Team consists of four firms with each firm having an extensive experience of more than 30 years in the field of real estate development in Kolhapur city. They are:
Tirupati Constructions
Ram Purohit and Associates
Skylark Constructions
S.N. Builders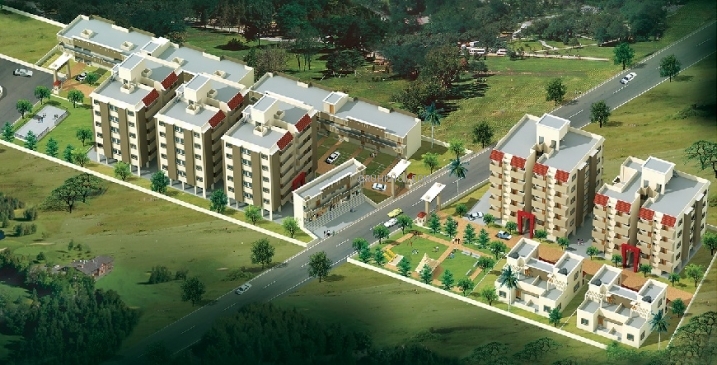 Varun Vihar Township - Maner Mala, Unchgaon, Opp. McDonalds, Kolhapur
---
Varun Flora Available (Total) Flats : 1BHK - 69 (84) , 2BHK - 86 (108) , 3BHK - 22 (24) Residential Area : 578 to 1168 Sq. Feet Price : 16.50 to 33.34 Lakhs *Excluding other charges. Loan Approved By : HDFC, Axis Bank Site Address 46, Airport Road, Ujalaiwadi, Kolhapur. E-brochure Specifications Attractive Entrance Gate Internal Roads & SEcure Compound Wall around project Internal Gas pipe line Childrens play area & garden Lift & common area lights with generator backups Jogging Track & walking track Attractive society office Gym, Yoga Hall & Fitness Area Spacious Parking CCTV with 24 hrs. security Rain water harvesting system Driver room - with toilet & living room Project near Ujalaidevi Waterfall area with natural environment Tulasi Vrundavan, Temple, amusement center for Senior citizens. Pollution free clean air around. Nearest Places From Project Airport - 1 Km Kole Hospital - 0.5 Km NH 4 - 0.4 Km Cancer Hospital - 1.5 Km Shantiniketan School - 3 Km Kolhapur Public School - 5 Km Shivaji University - 3 Km CBS & Railway Station - 6.5 Km Star Bazaar - 5 Km D Mart - 7 Km KIT - 2 Km Bharati School & College - 4 Km CSIBER / Rajarampuri - 5 Km Shiroli MIDC - 6 Km Gokul Shirgaon MIDC - 4 Km Kagal 5 Star MIDC - 6 Km VIBGYOR International School - 5 Km