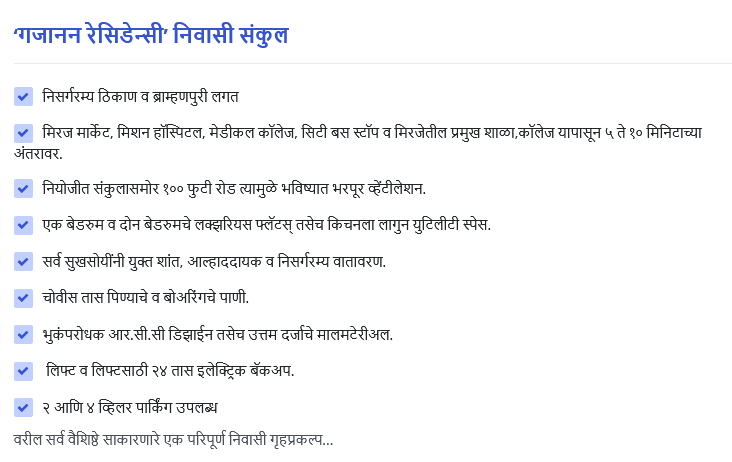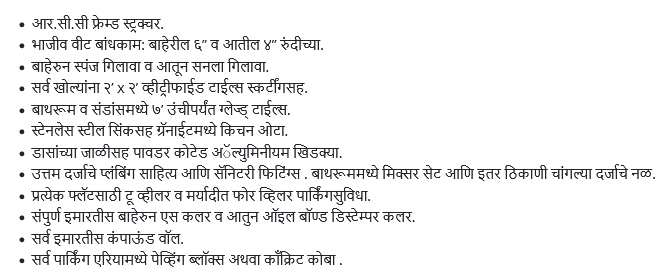 COMMON AREAS, LIMITED COMMON AREAS, AMENITIES & MAINTENANCE
 
 (I)     For all Apartment Units :
1. Undivided and indivisible proportionate interest in the land described in
Schedule-I.
 
2. Entire plinth of the building, main R.C.C. structure including columns,
beams and slabs etc.
 
3. Drainage main lines and chambers, etc.
 
4. Entire common tap water system (Corporation water supply) including
connection, main lines, reservoirs at ground and top, water lifting machinery.
 
5. Entire bore-well water supply system including main lines, reservoirs etc.
(availability will depend upon natural underground resources).
 
6. Lift (elevator) with necessary devices such as Battery Back-up.
 
7. Main entrance, staircase, mid-landing, lobbies, passages and terrace
over the top floor.
 
8. Lighting of stairs, lobbies, surrounding area, parking areas, terrace etc.
 
9. Common electric connection/s provided for supply to common lighting in
passages, lobbies, surrounding area, terrace, parking area, water lifting machinery, lift (elevator) and other common amenities. Electrical charges are to be contributed and paid by each Apartment Unit Holder in equal proportion i.e. equal per Apartment Unit. One or more electric connections may be provided depending upon technical requirement and consultation.
 
10. Parking Facility :-Covered parking will be provided at Ground Level. As
per parking plan of parking floor.
 
11. Regarding entrance and surrounding area, and parking area, staircase,
lift facility :-The common entrance will be provided at Eastern Side of
the Plot from road side for all unit holders. Above Apartment Unit owners
will allotted some Parking area and remaining Parking will be common
parking for two wheeler for all Apartment Unit Owners. Parking facility,
Lift facility, Staircase, Top terrace be used by All Unit Holders.
????